We've scoured many pedalboards and artist pedal listings to bring to you what we consider the best compressor pedal.
Compression is such a subtle effect, though so many artists depend on compressor pedals for their particular tone.  Compression is generally heavily used in recording mixing, though live you can only get the "effect" from a pedal.  Compression affects the dynamics of your guitar sound by basically making the loud sounds softer and quiet sound louder, making a more consistently even volume output.  Some compression pedals also provide improved sustain.
Best Compressor Pedal – Criteria
To choose what is the best compressor pedal, we looked over many pedalboards of stars, from those listed on this site to lists provided by compressor pedal manufacturers in order to get a good idea on which pedals are used by which artist and at what frequency in order to establish what is the most popular compressor pedal today.
Though many will have their preference for the best compressor pedal according to their sound, we are simply trying to establish which is the most popular among those that have the most influence.  Therefore, we consider the best compressor pedal the one that is most popular among today's top guitarists.  We suggest to continue reading to further research the best compressor pedal candidates to find the pedal that's right for you.  Even the best compressor pedal is not right for everyone, but it is a good starting point.
Best Compressor Pedal – MXR Dyna Comp / MXR Super Compressor
Used by: Stone Gossard of Pearl Jam (earlier pedalboards with Super Comp), Eddie Van Halen, David Gilmour of Pink Floyd, Adrian Belew of King Crimson
We may have cheated a bit by declaring two pedals as the best compressor pedal, though we found it was only fair, as one is the updated, current version of a classic.  When both pedals, manufactured by the same company, are similar enough in it results, we consider them as one.  Therefore, we declared the MXR Dyna Comp, and the MXR Super Compressor, the best compressor pedal.  Not only is it popular among today's best guitarists, it is durable as well affordable.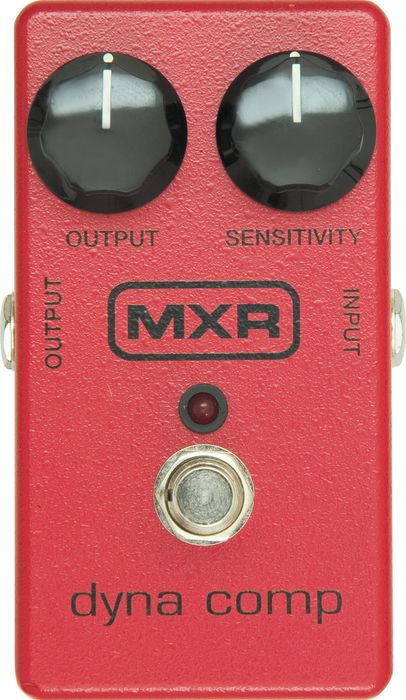 Buy the best compressor pedal from:
Musician's Friend

Amazon

Guitar Center

American Musical Supply