UPDATED: July 24, 2013
The Ibanez Tube Screamer was named the top overdrive pedal on this site, and it won it hands down.  Let's now have a in depth look at the history, models, artists and settings of this pedal on which so many artists rely.
What is the Ibanez Tube Screamer?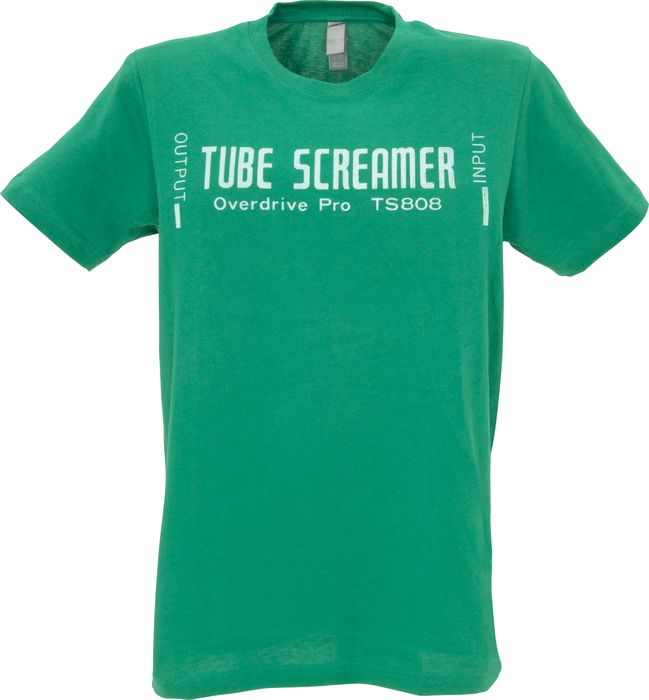 The pedal is made by Ibanez, though if you dig deeper, you'll find that the pedals were originally made by Maxon for Ibanez (who also produced their own Tube Screamer which looked incredibly similar).  Other pedals were greatly inspired by the design of the Tube Screamer, such as the Fulltone Fulldrive and the Boss DS-1.
The Ibanez Tube Screamer is an overdrive pedal, which itself implies a compression of the peaks of the instrument's sound.  Also called "gain", and sometimes synonymous with distortion, the term overdrive comes from the origin of the effect in which tube amps were "over driven".
To learn  more on how overdrive pedals, and the Tube Screamer specifically, check out Ultimate Metal for this great insight. 
Ibanez Tube Screamer models, types and history
The Tube Screamer model number always contains the prefix TS, with the most popular models being TS-808 (or TS808) or TS9.  These models have been reissued many times over which, according to Ibanez, using the same design and parts.  Purists out there seek out the original incarnations of these pedals, while others look for modifications of the reissued classics, the most popular of which is the Keeley modified TS9.  Many popular artist use the TS9 or TS808 pedals modifed by Robert Keeley.  See Analogman for a more expansive written history of the Tube Screamer.
Other older version include the TS5, TS7 and TS10, while current models of the Ibanez Tube Screamer, besides the classic reissues, include the upgrade TS9DX, a Bass TS9 and even a 30th anniversary edition TS930TH.
Ibanez TS808 Tube Screamer

First appeared in: the early 1970's
The original Tube Screamer was subtitled "Overdrive Pro TS808" (occasionally with a dash : TS-808).  There were many different versions of casing and labelling, probably from a transition of effects manufacturing, using leftover cases of other stompboxes and eventually readjusted. In some cases the circuit was different, too, resulting in a pedal with even more distortion.
Stevie Ray Vaughan used the TS-808.  His influence was far reaching, and this model remains popular today, and is still produced in a reissued version based on a 2002 version of the circuit (as per Analogman).
Ibanez TS9 Tube Screamer

First appeared in: Mid-1980's
Ibanez reworked its pedals under the what was called the 9 series.  Internally, the TS9 is the same as the TS808 (at least the same as most TS808).  Eventually, the 10 series was introduced, but the popularity of the TS-9 persisted, and Ibanez has continued producing reissues of this classic.  Maxon, who manufactured TS808 and TS9 pedals for Ibanez, produced their own Tube Screamer, the Maxon OD-9, which maintains the look of the 9-series pedals.
The reissues of this, and the TS808, are based on a 2002 version of the circuit (as per Analogman).
Ibanez TS9DX Tube Screamer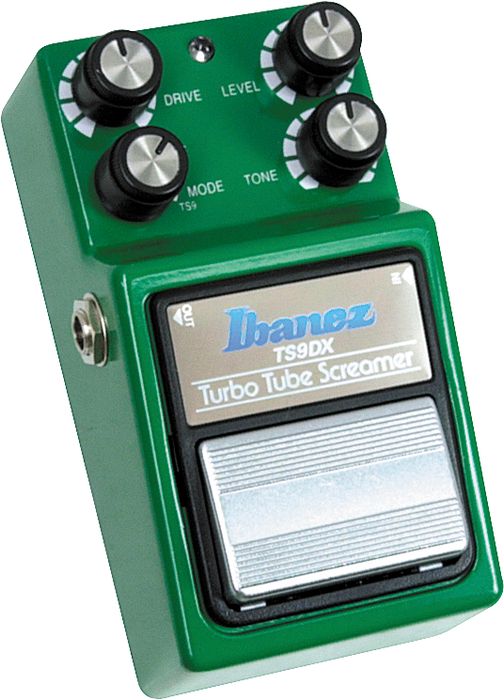 First appeared in: 1998
An expanded TS9 was introduced for those wishing for an upgrade to the classic sound (take it up to 11, as it were).  A fourth knob was introduce, MODE, which offered additional distortion modes beyond the classic Tube Screamer distortion.
| | | | | | | | | |
| --- | --- | --- | --- | --- | --- | --- | --- | --- |
| Brand | Ibanez | Ibanez | Ibanez | Ibanez | Ibanez | Ibanez | Ibanez | Maxon |
| Pedal | TS9 Tube Screamer | TS9DX Turbo Tube Screamer | TS808 Vintage Tube Screamer | TS808HW Tube Screamer | TS9B Bass Tube Screamer | Ibanez TSA15H Tube Screamer 15W Tube Guitar Amp Head | TSA30 Tube Screamer 30W 1X12 Tube Guitar Combo Amp | OD-9 Overdrive |
| Type | Distortion | Distortion | Distortion | Distortion | Distortion | Amp | Amp | Distortion |
| Notes | Reissue | Modified reissue | Reissue | Modified premium reissue | Bass version | Built into amp head | Built into combo amp | The original makers of the TS9 |
| Alternative? | Available New | Available New | Available New | Available New | Available New | Available New | Available New | Available New |
| Image | | | | | | | | |
| Buy Online | | | | | | | | |
Which Tube Screamer Should I Buy?
Not sure which one to buy?  We'd first suggest going to heart of your inspiration and desire to buy an Ibanez Tube Screamer.  If you're looking for a certain sound, inspired by a certain artist, consult our list below and pick one similar to what they use.
Still uncertain?  Then go with the TS9 reissue. It's the most used today, it can be modified later and it won't break the bank.
Looking at getting your own Ibanez Tube Screamer? Here's a list of coupon codes to help you save:
No coupons today. Check back soon!
Ibanez Tube Screamer Artists 
There are tons of artists out there that are using, or have used, the Ibanez Tube Screamer in its various incarnations, and some have even used many different ones on the same board.  Here's a short list of artists and the type of Tube Screamer they use.
Stevie Ray Vaughan – TS808

Noel Gallagher – TS9

John Mayer – TS808 / 

TS10 

John Petrucci – TS9DX Turbo / 

TS808 

Keith Richards – TS9 

Mike McCready – TS808 / 

TS9

Stone Gossard – TS9 (Keely Mod)

Trey Anastasio – 

TS9

The Edge – TS9
Ibanez Tube Screamer Settings
Tube Screamer Optimized Settings and Placement
One of the best optimized user guides for the Ibanez Tube Screamer come from this post in the Seymour Duncan forums.
In terms of placement of the Tube Screamer:
All of your modulating or time based effects like delay, chorus, flange and stuff like that should run through your effects loop. The overdrives & wahs should go straight in.
And regarding getting that optimal Tube Screamer setting:
What I would do is experiment with your amp set clean. I usually set the gain on mine at about 9:00, sometimes I will crank it up to about 12:00 but not ever much higher then that. the volume to give me a boost in volume & the tone I adjust according to which amp I play through and what guitar I am using.. You will find that a tubescreamer works exceptionally well with a tube amp, hence [t]he(sic) name […] The whole idea of a tubescreamer is to push the amp a little harder to get the tubes in a frenzy.
In short –
Tube Screamer Settings For Clean(er) Boost
From the Seven String forums we get this nugget of a setting for a more clean boost:
Drive: 2
Tone: 5
Level: 5.1
Trey Anastasio Tube Screamer Settings
Analogman, in their servicing of Trey Anastasio's pedals, snapped a picture of his Tube Screamers (he uses two of them, one for effect and the other for a boost, more or less).  While it probably changed through constant tweeking, here's where they were at that moment:
Drive : 11:00
Tone : 11:50
Level : 1:30
John Mayer Tube Screamer Settings
From the telecaster discussion forum we get a user sharing John Mayer's Tube Screamer settings.
AND, he uses the neck-middle position a lot for solos. He described it as being the best sounding for him. so to sum it up, a strat with mid scooped pickups, a tube screamer (his TS settings are drive – 1 o'clock; tone – 9 o'clock; level – set for just a slight boost of your signal), and a good fender tube amp will get you close enough to John Mayer's tone.
To sum it up.
Drive: 1:00
Tone: 9:00
Level: Slight signal boost
Stevie Ray Vaughan Tube Screamer Settings
Stevie Ray Vaughan is perhaps the most iconic Tube Screamer artist, inspiring others on our lists such as John Mayer.
We get some insight into SRV's Tube Screamer settings from the Seymour Duncan forums yet again.
I've got my Tele with the Jerry Donahue pickup plugged into both TS-9's and straight into my Deluxe Reverb on about 4.

Both TS-9's "ON" is a cool tone but a little over the top and I've been just comparing them to each other one at a time.

I have the level dimed on both of them and the tone at about 11 to 1 oclock, just depending.

Then I bring up the drive to about 9 or 10 oclock…and maybe bring down the level a little if needed.

Even with these modded TS-9's, that's, roughly, my favorite setting.

It's like a clean boost but gives ton's of sustain and allows pinch harmonics to really take off.
Drive : 9:00 – 10:00
Tone : 11:00 – 1:00
Level : In relation to drive for even sound