Jonny Buckland has one of the hottest guitar tones and sounds today.  His sound is perhaps even one of the most heard today, with so many Coldplay hits under under his belt.  Their unique sound spawned a subgenre of its own, with many coldplay clones coming out of the woodwork after they broke out.  Knowing the Jonny Buckland gear used is essential to recreating that sound.
Below you will find some resources in order to recreate your own Jonny Buckland gear setup.
Jonny Buckland Gear Updates
As Coldplay remain active, we figured it was time to update our Jonny Buckland gear page to include a more diverse view of his pedalboard configurations.  We now include 3 different pedalboard setups from 3 different "Eras" of the band; the Parachutes era, the 2006 tour of X and Y and the 2009 tour of Viva la Vida.  Their sound evolve much over the years, which make this distinction important.  Skip right on over to the  Jonny Buckland Gear Page for all of this information.
Jonny Buckland Gear Used for Delay
While his sound has evolved or the past decade, Jonny Buckland still relies on many of the same pedals he did since the band's first hit album.  One key pedal effect, delay, has been provided by the same pedals since the start.  Those two pedals also happen to be what are considered some of the best delay pedals out there.  Those pedals are the Line 6 DL4 Delay Moduler and the Boss DD-5 delay pedal, with the former being discontinued, but the equally good Boss DD-7 delay pedal has replaced it.  No word on which particular pedal is used over the over, though the DL4 is much more versatile (which is why we consider it the best delay pedal available out there).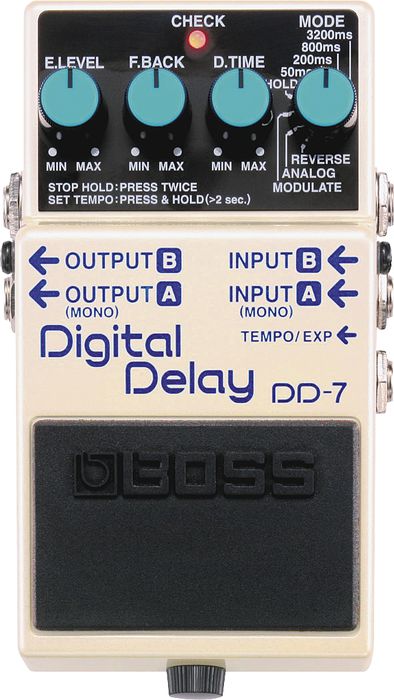 Get Jonny Buckland Gear from :
Musician's Friend

Amazon

Guitar Center

American Musical Supply

Get Jonny Buckland Gear from :
Musician's Friend

Amazon

Guitar Center

American Musical Supply